Richland Bombers
Future Class of '57
Sacajawea Grade School
Sixth Grade ~ Mr. Lewis
Click the picture to see LARGER faces.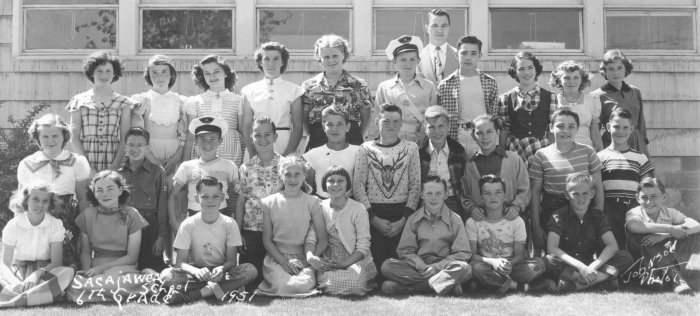 Picture provided by Elsa Phillips

Future class of '57

BEHIND THE BACK ROW: Mr. Lewis

BACK ROW: 1.JudyWilliams, 2.ElsaPhillips, 3.NancyCotten, 4.PatTomazin, 5.MarilynHuffman, 6.DelbertDavis, 7.GaryHunt, 8.PatriciaMcMahon, 9.JaniceMcKenna, 10.EvelynNagley.

MIDDLE ROW: 1.LewanaRice, 2.KennethJones, 3.DdonaldParchen, 4.MaxCase, 5.CraigBuchanan, 6.RogerDean, 7.RichardKale, 8.DelbertDesChane, 9.PeterEverhardt, 10.PaulLadell.

FRONT ROW: 1.SuzanneAnderson, 2.CarolynHarris, 3.JohnZilar, 4.LindaStewart, 5.MarthaWeeden, 6.TommyMoore, 7.LynnBryson, 8.LarryBelt, 9.DawayneSchmidt.

E-mail me with row and # if you see any changes that need to be made.



Class of '57 Home Page
Class of '57 Grade School Pictures





page started: 03/29/06
page updated: 06/30/12
Email the webmaster
57Sac6th-Lewis