Richland Bombers
Future Class of '57
Sacajawea Grade School
Fourth Grade ~ Mrs. Milton
Click the picture to see LARGER faces.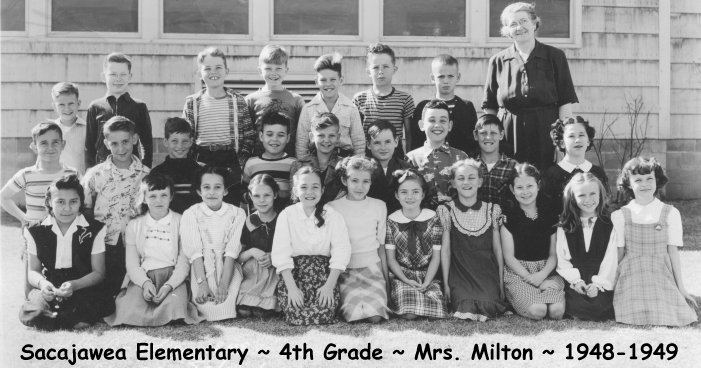 Picture provided by Jerry Millar's son, Chad Thomason

Future class of '57

BACK ROW: 1.PaulWorell, 2.LarryMacInzie, 3.DrueMcGinnis, 4.JimOverdahl, 5.StanleyRichardson, 6.DudlyWarder, 7.RayHall, 8.Mrs.Milton.

MIDDLE ROW: 1.RobertMulvey, 2.DavidBlack, 3.CarlCleavenger, 4.DonZigler, 5.AlvinNall, 6.JohnBell, 7.DickBresina, 8.BillJohnson, 9.ShirleyPease.

FRONT ROW: 1.RitaCruz, 2.BarbaraDean, 3.DiandPlee, 4.LilusSmith, 5.JerryMillar, 6.MaryanneWalton, 7.DonnaOgden~OR~Anderson, 8.BrendaSowell, 9.BonnieSteeber, 10.SandyKramer, 11.JaniceOtey.

E-mail me with row and # if you see any changes that need to be made.



Class of '57 Home Page
Class of '57 Grade School Pictures





page started: 05/21/05
page updated: 06/30/12
Email the webmaster
57Sac4th-Milton