Richland Bombers
Future Class of '57
Jefferson Grade School
Fourth Grade ~ Mrs. Duncan
Click the pictures to see LARGER faces.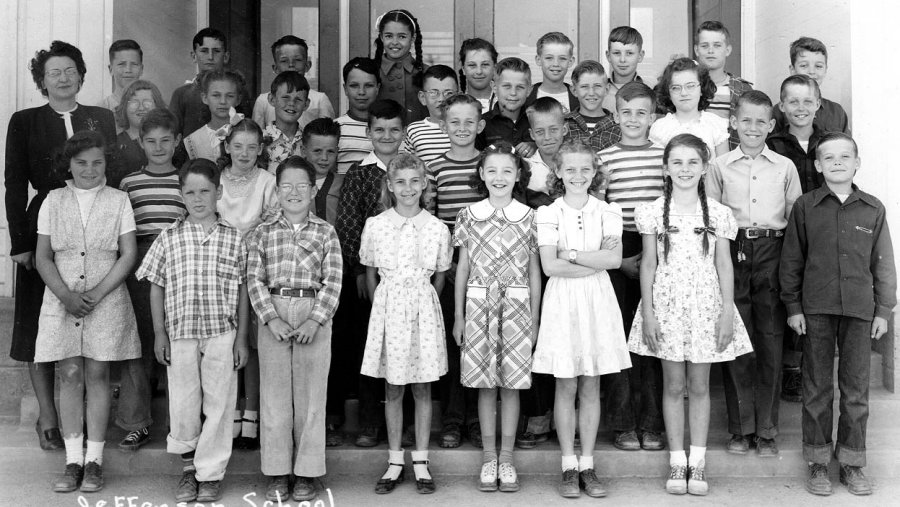 Mrs. Duncan's 4th Grade Class ~ 1948 - 1949
Picture provided Mrs. Duncan ~ scanned by Tom Matthews

Future class of '57

BACK ROW: 1.MickeyHurley, 2._______, 3.TerryVanWyke, 4.NancyShortess, 5._______, 6.AndyMelling, 7._______, 8.TomCallahan, 9.DonNorwood.

THIRD ROW: 1.RosaleeLast, 2.SharonPrice, 3.DavidGilpin, 4.CorwinWright, 5.DavidElderkin, 6.RogerAnderson(?), 7.TrumanVance, 8.MarjorieCallahan, 9.PhillipHeffner.

SECOND ROW: 1.Mrs.HazelDuncan, 2.ChipDurley, 3.ColleenSullivan, 4.DarrelJohns, 5.EugeneJohnson, 6.BillLindgren, 7.GaylonWhiteside, 8.TomMatthews, 9.FloydMelton.

FIRST ROW: 1._______, 2.HaroldSutton, 3.TimPittman, 4.DeannaLowe, 5.BonnieShields, 6.CarelCurry(?), 7.BettyParker, 8.FredMelling.

E-mail me with row and # if you can fill in any of these blanks

~~~~~~~~~~~~~~~~~~~~~~~

Typical Classroom pictures taken by Mr. Lind, Principal
Provided by Mrs. Duncan & scanned by Tom Matthews
Classroom pictures
Check out the drawing on the wall in the 2nd picture ~ bottom row far left.
Is that a "G" house?



Class of '57 Home Page
Class of '57 Grade School Pictures





page started: 09/29/99
page updated: 06/30/12
Email the webmaster
57Jeff4th-Duncan