Richland Bombers of the future
JOHN BALL
Grade School Pictures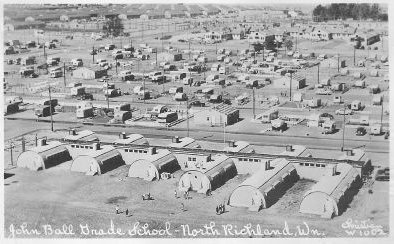 John Ball in North Richland opened with 136 students on February 16, 1948.
Raymond Lamb was principal of the K thru 8 school.
John Ball was named for the man who organized & taught the first school in the Oregon Territory.
Peak enrollment was 921 in January 1949.
The school was closed June 30, 1955.


More detailed history of John Ball
1949 John Ball Students in Trench
1950 - 1951 School Crossing Guard, Marlene Larsen ('56wb)
1951-1952 Girl Scouts
1952-1953 Boys Patrol
1952-1953 Girls Patrol
1952-1953 Student Council
1953-1954 Boys Patrol
1953-1954 Girls Patrol
1953-1954 Instrument Class
1953-1954 Library Club
1953-1954 Student Council
1988 Tri City Herald Article and Picture about John Ball Reunion
11/13/02 - Newspaper column by former student, John Hebert
12/25/02 - Newspaper column by former student, John Hebert
FUTURE CLASS OF '55 GRADE SCHOOL PICTURE LINKS PAGE
Future Class of '55 ~ 6th Grade ~ Mrs. Hensley

FUTURE CLASS OF '56 GRADE SCHOOL PICTURE LINKS PAGE
Future Class of '56 ~ 5th Grade ~ Ms. Daugherty
Future Class of '56 ~ 6th Grade ~ Mrs. Hensley
Future Class of '56 ~ 7th Grade - Mr. Harding

FUTURE CLASS OF '60 GRADE SCHOOL PICTURE LINKS PAGE
Future Class of '60 ~ 1st Grade ~ Mrs. Pugh
Future Class of '60 ~ 1st Grade ~ Ms. Wood
Future Class of '60 ~ 2nd Grade ~ Ms. Francis
Future Class of '60 ~ 2nd Grade ~ Unknown Teacher
Future Class of '60 ~ 4th Grade ~ Miss Campbell
Future Class of '60 ~ 4th Grade ~ Mrs. Grossenbacher
Future Class of '60 ~ 5th Grade - Mrs. Bern
Future Class of '60 ~ 5th Grade - Ms. Campbell
Future Class of '60 ~ 6th Grade - Mrs. Hensley
Future Class of '60 ~ 6th Grade - Mrs. Stevenson

FUTURE CLASS OF '62 GRADE SCHOOL PICTURE LINKS PAGE
Future Class of '62 ~ Kindergarten - Ms. Paulson
Future Class of '62 ~ 1st Grade - Mrs. Pugh

FUTURE CLASS OF '63 GRADE SCHOOL PICTURE LINKS PAGE
Future Class of '63 ~ 4th Grade - Mrs. Grossenbacher

FUTURE CLASS OF '64 GRADE SCHOOL PICTURE LINKS PAGE
Future Class of '64 ~ Morning Kindergarten - Miss Fleckenstein
Future Class of '64 ~ Morning Kindergarten - Unknown Teacher
Future Class of '64 ~ 1st Grade - Miss Arrien
Future Class of '64 ~ 2nd Grade - Mrs. Cockran
Future Class of '64 ~ 2nd Grade - Mrs. Whepple
Future Class of '64 ~ 2nd Grade - Unknown Teacher
Future Class of '64 ~ 3rd Grade - Mrs. Matthews
FUTURE CLASS OF '65 GRADE SCHOOL PICTURE LINKS PAGE
Future Class of '65 ~ AM Kindergarten ~ Miss Wooster
Future Class of '65 ~ 1st Grade - Miss Prudeu
Future Class of '65 ~ 2nd Grade - Mrs. Tingley/Miss Fischbaugher


FUTURE CLASS OF '66 GRADE SCHOOL PICTURE LINKS PAGE
Future Class of '66 ~ Kindergarten ~ Mrs. Russell





Christ the King ~ Jason Lee ~ Jefferson ~ Lewis & Clark
Marcus Whitman ~ Sacajawea ~ Spalding
Carmichael & Chief Jo







page started: 06/19/99
page updated: 07/13/14
Email the webmaster
JOHN BALL GRADE SCHOOL